Menu
Elmwood Kitchen offers three menus: Traditional (American), Spanish (Latinos) and Eastern European (Polish).
We offer 28 delicious entrees. Think about meals like Chicken Parmesan, Baked Teriyaki Salmon, or Chicken Blintzes. Don't they sound good? These entrees are just a few of the delicious meals that our creative, experienced chef cooks up. Click on the icon at the bottom of this page to view our complete menu.
Our registered dietician ensures that your nutritional needs are met. All of our food is low fat and low salt. We also offer customized diets that comply with your health restrictions and are consistent with your cultural practices:
Diabetic
Lactose intolerant
Soft or ground foods
Vegetarian
Kosher-style
We cook your food fresh daily in our West Hartford kitchen. Our chef adheres to the highest quality control measures and complies with local, state and federal food safety codes.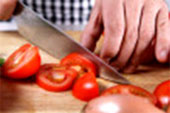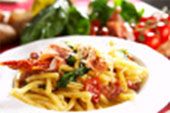 "My mother has to be careful with salt and Elmwood Kitchen's concern for dietary needs took the worry off my shoulders."

Thea, Hartford