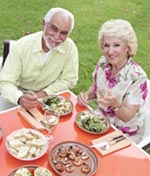 Welcome to Elmwood Kitchen. Located in West Hartford, CT, we are Greater Hartford's premier Meals-to-Go Home Delivery Service for seniors.
Are you a:
Senior who would appreciate having home-cooked meals prepared and delivered to your home?
Family Member seeking an affordable, easy way for your parents to enjoy wholesome meals?
Health Care Professional looking for a healthy home delivered program for a patient?
You're in the right place. Elmwood Kitchen cooks and delivers healthy, delicious, gourmet meals to seniors who can't—or choose not to—cook for themselves. We deliver to Berlin, Bloomfield, East Hartford, Hartford, New Britain, Newington, Plainville, Rocky Hill, West Hartford, Wethersfield and Windsor. Our rates are affordable, delivery is free and our customer service is outstanding.
We're known for excellent entrees, healthy vegetables, fresh fruit, tasty desserts and popular beverages. And with 28 different entrees each month, we make mealtime fun and interesting as well as easy and delicious. We even offer a free sample meal delivery for people thinking of signing up for our service. Call us at 860-523-1418 ext. 3 for more information.
"I'm very happy with your service. I love the eggplant and stuffed cabbage, and the soup is out of this world."

Collette, West Hartford
"The presentation is wonderful. When I open the bag the food looks so appetizing and the tray is helpful for reheating it in my toaster oven. I put on some music and enjoy a delicious meal."

Carletta, Bloomfield